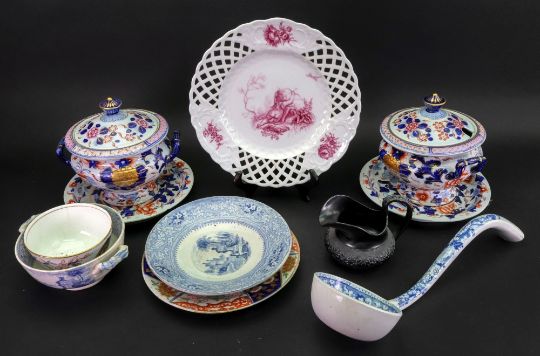 Click on the image to see full size
Use mouse wheel or two fingers to zoom in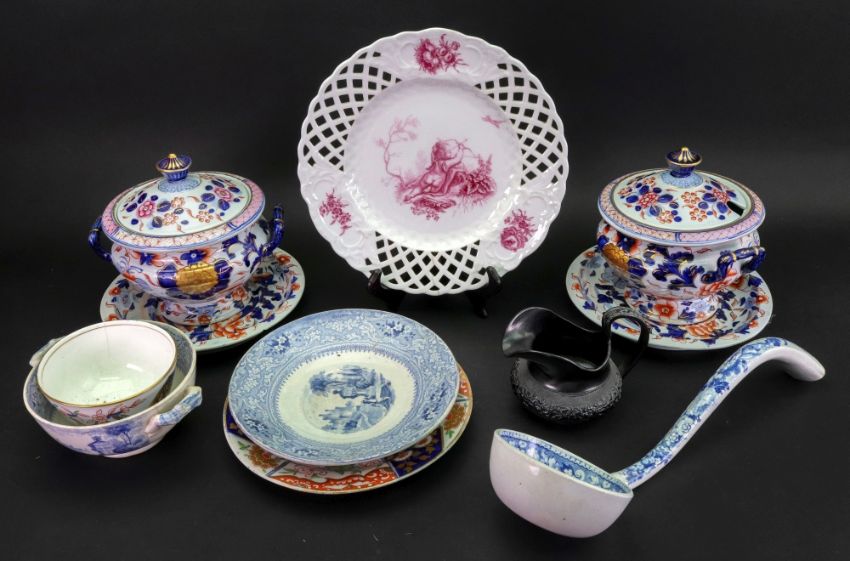 Live auction
Lot closed
Lot location
Winchester, Hampshire
A group of English pottery and porcelain, 19th century, comprising; a Minton porcelain pierced plate, painted in deep pink with cupid with bow and arrow, impressed mark, 23.5cm diameter, a Derby 'Japan' pattern dessert plate, a pair of stone china 'Japan' pattern sauce tureens , covers and stands, a blue and white printed soup plate, a blue and white printed 'Ardennes' pattern bowl and stand, a 'Japan' pattern porcelain sugar bowl and a black glazed pottery milk jug (13).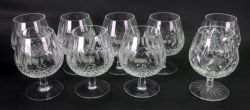 Venue address
The Red House
Hyde Street
Winchester, Hampshire
SO23 7DX
United Kingdom
Interiors, including Jewellery & Paintings | Winchester
Auction dates
Sep 18, 2019 10:00 AM BST
Lots: 1 - 697
Sep 19, 2019 10:00 AM BST
Lots: 700 - 1458
Viewing dates
Sep 13, 2019 09:00 AM - 04:00 PM BST
Sep 14, 2019 09:00 AM - 01:00 PM BST
Sep 16, 2019 09:00 AM - 07:00 PM BST
Sep 17, 2019 09:00 AM - 04:00 PM BST
Sep 18, 2019 09:00 AM - 04:00 PM BST
| | |
| --- | --- |
| Auction currency | GBP |
| Buyer's premium | 22 % |
| Online commission | 5 % |
| Accepted cards | |
Postage and Packing Recommendations
SUSSEX SALEROOM COLLECTIONS
ATD Shipping

T: 0044 (0)1903 742233
E: info@atdshipping.com
Jentel Packing

T: 0044 (0)1268 776777
E: enquiries@jentelpacking.co.uk
WINCHESTER SALEROOM COLLECTIONS
Mail Boxes Etc.
T: 0044 (0)1962 622133
E: info@mbewinchester.co.uk
L&S Removals
T: 0044 (0)7711 057 607
E: godde@hotmail.co.uk
Jentel Packing
T: 0044 (0)1268 776777
E: enquiries@jentelpacking.co.uk

TERMS OF SALE BY AUCTION AND CONDITIONS OF BUSINESS
Mainly Concerning Buyers
1. Buyers premium of 22% on the hammer price plus VAT at 20% is payable on all lots. (The VAT rate may alter and will be levied at the appropriate rate.) Any lots marked with an asterisk(*) will be subject to 20% VAT on the hammer price. Please note that any lots purchased via the-saleroom.com live auction service will be subject to an additional 5% commission charge + VAT at the rate imposed on the hammer price
2. Payment of all bought lots must be made by the Thursday following the sale. The Auctioneer reserves the right to cancel any sale after this period, or where he deems it to be in the Sellers best interests, at his sole discretion.
3. The auctioneers will not release goods to clients unknown until cheques have been cleared. A period of five working days will be needed to clear the cheques. Purchasers will be held liable for any expenses arising from their method of payment.
4. No lots may be cleared during the auction, however, payments can be made to cashiers in the Accounts Department.
5. Lots may be claimed and cleared at the conclusion of the sale. Lots will be released only on production of a release slip receipted by the Accounts Department. Ownership of a lot purchased shall not pass to the buyer until full payment has been made to the Auctioneer of 'the total amount due'.
6. Free storage of all lots will be provided for three working days following the sale thereafter a storage and handling charge of £5.00 plus VAT per lot per day will be levied.
7. Bidding (a) Paddles: All intending buyers are requested to complete a paddle registration card prior to the auction. When a buyer is successful he/she will hold the paddle aloft and the auctioneer will record the paddle number as the buyer of the lot.
(b) Commission Bids: Any person unable to attend the auction may request the auctioneer to bid on his/her behalf. This service is free of charge. Bidding forms will be available so that clients may complete this fully. These should be handed in at the Accounts Office. Commission bidders are urged to ascertain whether they have been successful or not on the day of the sale or on the Monday following the sale. Lots will be purchased by the auctioneers on behalf of the commission bidders as cheaply as is allowed by other bids and/or reserves if any. Buy bids will not be accepted by the auctioneers. The auctioneers cannot accept responsibility for any neglect or default in executing or failing to execute commission bids.
(c) The auctioneers reserves the right to re-offer any lot in the case of a dispute. The bidding increments will be at the sole discretion of the auctioneer.
8. Liability of Auctioneers and Sellers Goods sold are not new and all goods are sold with all faults and imperfections and errors of description. Illustrations in the catalogue are for identification only.
(i) Buyers should prior to the sale satisfy themselves as to the condition of each lot and whether or not in their own judgement the lot accords with the description. (ii) Neither the Auctioneers the seller or their servants are responsible for errors of description or for the authenticity of any lot and
(iii) The Auctioneers the seller or their servants and agents give no warranty whatsoever other than hereinafter contained to any buyer in respect of any lot and any express or implied conditions or warranties are hereby excluded.
9. Where a member of the public causes damage to a Lot (or part thereof) the Auctioneer reserves the right to:
(i) sell the aforementioned without reserve and to hold that specific individual liable for the amount of any difference between the hammer price and the reserve or lower estimate whichever might be higher or (ii) for the cost of the restoration where appropriate or (iii) for the full amount of the reserve price or lower estimate which ever be the higher
Note: that with the exception of Condition 10(iii) title to the Lot will remain solely with the seller.
10. Viewing of the sale will be on Friday 9am – 4pm, Saturday 9am – 1pm, Monday 9.00 am – 7.00 pm and Tuesday 9.00 am – 4.00 pm. Claiming and clearing of purchased lots will be following the conclusion of each sale, and thereafter 9.00 am – 5.00 pm Monday to Wednesday following the sale.
Please note these lots are at the Winchester saleroom.
Buyers Premium: 22% + VAT is the standard rate. An additional charge of 5% + VAT applies to lots purchased online with the-saleroom.com.
We request that payment and collection of lots should be made by THURSDAY 26 SEPTEMBER 2019.